Hans Johnson
My INSANE attempt to go BANKRUPT by end of this week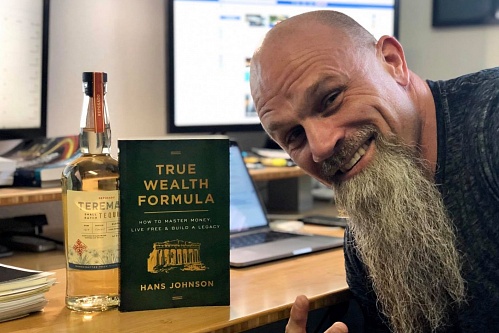 After 4 years of work and more than 2 decades of
trial-by-fire
experience, my book
True Wealth Formula
-
How to Master Money, Live Free & Build a Legacy
Is finally on sale at
Amazon
.
This book is a no bullshit, no holds bared LIFE and MONEY MASTERY survival manual.
Now re my INSANE attempt to go BANKRUPT by end of this week

In case you haven't heard, yesterday I announced something truly ridiculous - watch the video announcement here.
This isn't some joke or gimmick.
Here's what I'm doing.
I'm matching dollar for dollar EVERY SINGLE purchase of the book till end of this week and making a donation to KingsRansom.org (KRF) to help abused kids who've been victims of sex trafficking.
To be clear, this is an OPEN ENDED offer and commitment that I've made.
And when I commit to doing something, I DO IT no matter what.
I have no idea how many books will sell, or what my total financial commitment will be by end of this week.
It could be a few thousand, a $100,000 or even $1,000,000 donation.
It's completely in your hands.
Here's what you need to do RIGHT NOW.
Order True Wealth Formula - from Amazon, make sure you get paperback PLUS digital Kindle version (so you can read and post review asap while waiting for shipping). Order as many EXTRA copies as you can for family, friends, clients, etc. - you will be the HERO to them, giving them a life and money SURVIVAL MANUAL during the worst economic event in 100 years.

Go to TrueWealthFormula.com and register to get a) Free Money Quadrant Report b) access to the 5 free CORONA-CRISIS survival guide videos I did recently outlining how to survive and thrive during the corona clusterfest.

That's it. As long as you do

#1

and

#2

above and you DON'T HOLD BACK then you will help me go bankrupt while we help save abused kids who've been victims of sex trafficking.

You can forward this email to your mailing lists and post on social media but it must happen by end of this week.
I promise you the book will be easy to read. You will understand it and you will apply it and it will change your life. How you see and perceive the world around and in you will change forever. It will give you the keys to the kingdom, literally.
Again, I've LOST MY MIND and I am asking for your help!!!
Will you please HELP me go BANKRUPT by the end of this week by HELPING yourself HELP others by getting extra copies of my book for your friends, family, birthdays, Christmas shopping, business prospects and clients and more?
I'll be going live today and everyday this week at 4pm CST on Facebook for another update but I'd like to know if you're one of the ones that have taken action by then.
Thank you!!