HOW TO MASTER MONEY, LIVE FREE & BUILD A LEGACY
True Wealth Formula BOOK
#1 BEST SELLER IN WEALTH MANAGEMENT ON AMAZON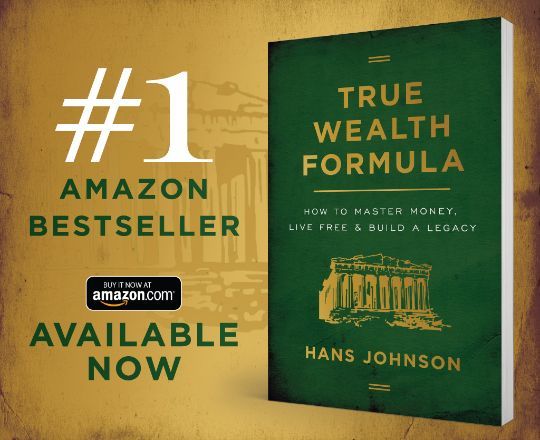 ON SALE NOW ON AMAZON!
After 4 years of work and more than 2 decades of trial-by-fire experience, my book True Wealth Formula - How to Master Money, Live Free & Build a Legacy Is finally on sale at Amazon.
True Wealth Formula: How To Master Money, Live Free & Build A Legacy is a step-by-step roadmap and master strategy to gain control over your money and master the investing game, while delving into the deeper meaning of wealth, relationships, fulfillment, and legacy. 
Offering unconventional but proven strategies, Hans Johnson shows you how to sift through the ungodly amount of financial information out there, and develop and reliable system that produces repeatable, automated results.

Please make sure you are on our mailing list for updates. 
A proven BATTLE-TESTED master wealth building strategy. Absolutely NOTHING held back.

A practical money guide and master wealth building strategy born from years of hard knocks experience. 
For those who know you're not smart but want to kick ass financially while living a life of peace and fulfillment. 
Either money will be our slave or we will be it's slave. There is no in between. 
There is a specific mindset, system and strategy to BECOME and REMAIN the master. Most have been programmed since birth to be slaves to a system they do not understand. 
To much has been given much is required. To those that have they will be given more. To those who have little what they do have will be taken from them. You cannot serve both God and mammon. Kingdom riddles for the eternally curious mind and heart cannot be solved or answered by those who have not paid the price. 

If you are trying to purchase the True Wealth Formula Book outside of the United States you wanna try looking up the AMAZON URL for your perspective Country. i.e for Canada it's AMAZON.CA I know its tedious but it seems to work for those outside the US. ANOTHER ISSUE we are running into is SHIPPING. It's DUE TO COVID19. Some Countries are RESTRICTING SHIPPING because of it. It's really OUT OF OUR HANDS at this point, and we aren't sure WHEN the restrictions will LIFT. Try grabbing the ebook to start. That way you can start reading the book right away. I'm sure the restrictions will lift as soon as they think or deem it safe.

Extract yourself from global debt slave system
Get $ working for you instead of working for $
Automate wealth building process
Not be a Rich Miserable Bastard
Testimonials
What clients say
Just wanted to let you know that my team and I are studying your model because we are considering adopting it in our firm. As a fiduciary in the financial services industry for almost 20 years, what you teach is far and away different from what I studied (BBA in Finance) and trained at Morgan Stanley in 2000. I want to help set our clients up for financial independence not be another 98% financial advisor." —Chris Stallings 
 "You were absolutely right when you said 'apply True Wealth Formula just one month and your bank account will look different'! I'm happy to say that for the first time I was able to take 40% of my income OFF the table and go to debt and my wealth account in addition to my 10% for Giving." 
 —Nina Shepherd 
 "TWF Rocks. Day one we had $237k in assets and $223k in liabilities while our Net was $14k. Today we have over $530k in assets and $441k in liabilities with a Net of $58k. We increased our income from $7k per month to $15k. We paid off over $34k in debt since starting TWF and cut $2,000 a month in fat. From the beginning of our journey with True Wealth Formula, we have given over $21,000 to the tithe. Thank you, Hans, you are incredible."
—Mike Gibson 
 "The percentages make it so simple, not trying to add up specific numbers to come up with budgets, etc. It's simple! Everything about it is simple."
 —Abigail Burton
Rules based Money Mangement Systems
Why all markets boom and bust
Model how wealthy create sleep at night financial independence
Investment rules and ratios
Cure your inner gambling addiction
Mindset of Wealth Builder
WHY YOU SHOULD
READ THIS BOOK
A famous celebrity who's struggling to account for his "missing $650 million" has been in the news recently—an ultra-high income earner who relied on "trusted" managers who either misadvised him or couldn't rein in his out-of-control lifestyle and spending. 
It's a real mess with a lot of finger-pointing and lawsuits. The story perfectly outlines the reason for this book. 


Who's the victim? Who are the villains? 


It's easy to look at famous people and think: How stupid! What an idiot! That would never happen to me. To be clear, there are massive pressures public figures live under that only end up exacerbating deeper problems. Lack of privacy alone is a huge issue. In the celebrity's case, a $2 million monthly spending habit couldn't fill the void.


So who's to blame? 


To be sure, there's plenty of blame to go around, but, in the end, there's only one person with ultimate responsibility. The reality is: no one will do for you what you are not willing to do for yourself. That means you, and you alone, are responsible for your financial situation and well-being, or lack thereof. No one owes you anything. 

Understanding and coming to agreement with this uncomfortable truth is the beginning of your freedom.

I had to confront this reality within myself, and it wasn't easy, believe me! It's always easier to blame others, especially when we feel wronged or taken advantage of. 
And what about the family who's barely making ends meet? How do they break free of financial slavery and start building wealth? 
This book answers their concerns, too. 
I've spent a great deal of my life working to answer these and many other questions about money and wealth for myself, my family, and our clients. True Wealth Formula is the outcome of a personal journey of self-discovery, sorting through the ungodly amount of financial information and misinformation out there, and developing a reliable system that produces repeatable, automated results. 
Why did I write this book? 
To answer the age-old questions: How do I become free? How do I turn money into my slave instead of being a slave to money? The information shared in this book isn't taught in school. It's what only a few of the world's most elite Wealth Builders know.  
Welcome to the True Wealth Formula, your roadmap and blueprint to personal freedom. I invite you to enjoy the journey!